Business Hours and Holidays in Indonesia
Even during our travels away from home, there will always be a need for post offices, banks, and shops. It might be a little confusing at first because the business hours might differ here. This rough guide to the standard business hours will help you out! Keep in mind that this is a rough estimation since different businesses have slightly different opening hours individually and in different areas. So be sure to check out their respective websites to make sure.
So when does everything open?
The best time to continue on with your activities after 10 a.m since that is when most places open. There will always be restaurants and cafes that are 24 hours or open in the early mornings so you don't have to worry about getting hungry.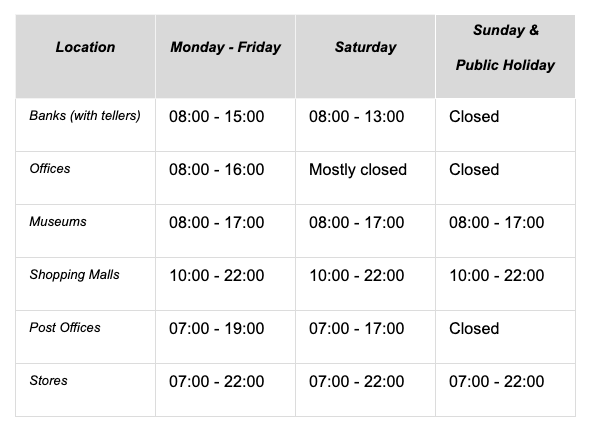 What are the national public holidays in Indonesia?
There are a few public holidays in Indonesia where offices are on holiday and most stores don't open as long. On national public holidays, most people decide to stay home and rest, but there is also a chance that malls and stores will be crowded, especially if it falls like a long weekend.
The national public in Indonesia starts with the New Year on the 1st of January. This holiday lasts for just one day. The next public holiday of the year would be Chinese New Year, celebrating the New Year of the Chinese Calendar. This holiday falls on either January or February.
On the 1st of May, Labor Day is a public holiday. Normally on this day workers go to the streets peacefully to ask for better work conditions and better wages. On the 1st of June, Indonesia celebrates the birth of the Pancasila, the country's foundational philosophical theory.
Indonesia celebrates its Independence Day on the 17th of August. This is a very festive holiday because people gather together with their neighbors or their coworkers for unique games like races and friendly competition. A lot of people wear the colors of Indonesia's flag: white and red. Join in all the fun!
How about the Religious Holidays Indonesia celebrates?
Indonesia recognizes a lot of religions and the holidays to celebrate important days of each one of them. As a Muslim majority country, the most celebrated holiday is Idul Fitri and Idul Adha. The dates differ and are observed based on the Islamic calendar. On Idul Fitri, the holidays normally would be extended for about 7 and up to 10 days of join-leave for a nationwide holiday. This is because extended families normally gather together in their hometowns.
It is also important to note that Indonesians celebrate Ramadhan where they fast from dawn to dusk. During this time, a lot of restaurants and food stalls close to respect the ones fasting. Most fast-food restaurants or big restaurants are still open, but the curtains are normally drawn as to not be visible from the outside for respect.
Collective leave is also decided for Christmas on the 25th of December, but with a shorter time than the collective leave during Idul Fitri. Sometimes businesses decide to announce the holidays until New Year's.
Another important holiday is the Day of Silence or Hari Raya Nyepi. It falls around March or April and is commemorated every Isakawarsa according to the Balinese calendar. It is a Hindu celebration that is mainly celebrated in Bali. It is specifically important for those of you who will be visiting Bali on this day because the airport along with the whole island will be closed off for 24 hours. The people will shut off electricity, not use their phones, not walk around or explore places and dedicate themselves to silence for one whole day. A very unique experience to see into the culture of Bali indeed.
Other public religious holidays:
Good Friday falls on either March or April.
Ascension of Jesus Christ normally around May or June
Day of Birth of Buddha also around May or June
The Islamic New Year differs according to the Islamic Calendar on the 1st Muharram. This past couple of years it has been around September and October.
Birth of the Prophet falls on the 12th Rabi'al-awwal in the Islamic Calendar (Around October)
The ascension of the Prophet is also a public holiday but differs based on the Islamic Calendar as well.