There are many things to do when traveling to regions across Indonesia. Well, in Medan, there is one thing you must do and that is eating the ultra delicious Lontong Sayur Medan.
Lontong Sayur Medan is a complete dish filled with yummy proteins that can be eaten for breakfast, lunch or dinner. The dish consists of a soup known as sayur lodeh (vegetable soup cooked with coconut milk), tofu and tempe, lontong (steamed rice in banana leaves), sambal, boiled egg, rendang, and many other optional side dishes.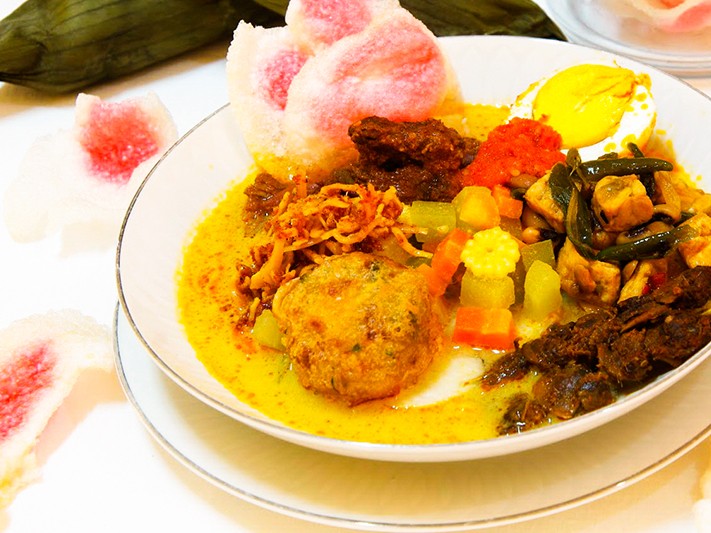 Where can you get this dish? Well, it's basically sprawled in restaurants, food stalls or even street vendors across the bustling capital of North Sumatra. However, we have come up with a list of some of the best places for you to try some tasty lontong sayur when you are in Medan. The bonus? All of these places are extremely affordable and won't leave your pockets dry of cash.
LONTONG KAK LIN
This food stall is located across SMA (high school) 1 in Medan and quite popular among the locals. This is the perfect place to enjoy your first experience of lontong sayur. Aside from being comfortable, the food stall is also affordable and serves other types of delicious food.
Jalan Teuku Cik di Tiro No 76 (in front of SMA 1 Medan)
Opening hours: 06:30-18:00 local time
LONTONG WARINTEK
The name of this food stall is Lontong Warintek because it is located right next to an internet café called 'Warintek'. What makes this place unique? Well, a dish of yummy lontong sayur Medan at this food stall, which has been operating for 25 years, comes with some tasty crunchy potato crisps on top.
Jalan dr Mansur, near the intersection of Jalan Setiabudi Medan
Opening hours: 06:30-11:30 (local time)
LONTONG MALAM BU SARI
Unlike other lontong sayur Medan food stalls, this establishment opens its' business after sunset. What's so special about this place? You can add some yummy bakwan (mix-vegetable fritter) and noodle crackers to your meal.
Jalan Medan Area Selatan
Opening hours: 18:30 – after midnight (local time)
LONTONG TERENAK DI DUNIA
This establishment named itself Lontong Terenak di Dunia (The Best Lontong in the World), after Indonesian Vice President Jusuf Kalla visited Medan and actually stated that the lontong sayur here was the best he ever tasted in the world. If that's not enough to tempt you, then you should also know that a plate of this yummy dish here comes with some scrumptious sweet potato crisps, delicious rendang and tasty tauco (fermented yellow soybean paste).
Jalan S Parman (the parking lot of Harley Davidson Medan)
Opening Hours: 12:00-17:00 (local time)
LONTONG BANG IWAN
This is the place to go if you want to try some lontong sayur Medan that is different than how it is usually served. Aside from being served with some tasty keripik balado (spicy potato chips) on top, the soup is made from a mixture of peanuts, sayur lodeh and tauco paste.
Jalan T Cik Di Tiro
Opening Hours: 07:00-14:00 (local time)