The island of Bintan in the Riau Islands Province never ceases to amaze visitors with its enchanting natural landscape. The smooth roads on this island, accompanied by spectacular sceneries are ready to take you to some of the amazing splendors beyond your imagination. One of these roads will lead you to a secluded small island off the coast of Bintan: Nikoi Island, a tropical paradise in South China Sea.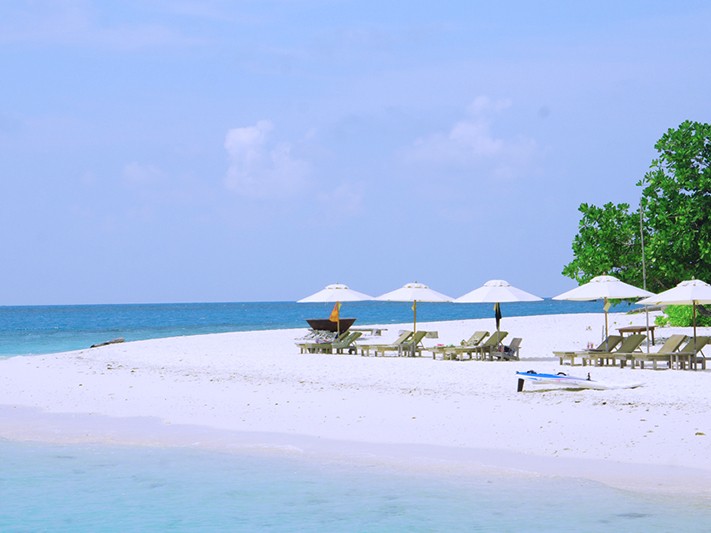 Located less than 85km from Singapore, Nikoi is a 15 hectare exclusive island 8km off the east coast of Bintan. To reach the island, one must take a fast boat from the Kawal Pier at the Agro Beach Resort Bintan or a Ferry from Tanah Merah Ferry Port in Singapore.
Long regarded as one of the most stunning islands on this relatively unspoilt coast, Nikoi is fortunate to have retained its pristine condition. It is ringed with white sandy beaches and coral reefs of spectacular color and diversity and has a coastline studded with granite boulders that seemingly defy gravity. Rising to a height of 30m, the island also boasts a rain forest where giant trees, including native Banyan trees, provide a sanctuary to a diverse population of local birds.
The island is managed by a small group of expatriates who have lived in Asia for most of their working lives and share a passion for the outdoors, nature, food and wine. The name Nikoi is a local variation of the Chinese Hokkein word for papaya (paw paw) – a fruit that was originally grown on the island.
Today the island resort features beach houses that reflect both traditional Indonesian architecture and contemporary form.  Using driftwood and 'alang alang' grass roofing to blend into the environment, each beach house incorporates a modern ensuite bathroom.  Thus, provides a "simple barefoot luxury" in a superb setting.
A spectacular pool has also been built in amongst the granite boulders on the north-eastern side of the island and provides a destination within a destination.  Set high above the sea it overlooks one of the prettiest beaches on Nikoi and provides an uninterrupted view over the South China Sea.  There is also an adjacent wading pool for young children and a bar.
The ability to hire out the entire island for groups of up to 60 is also attractive for corporate groups wanting to focus on team building or smaller style conferences. The island has also become popular for groups of friends celebrating milestone birthdays and other occasions. In May 2007 Nikoi was opened to the public and has fast become a popular destination for Singapore expatriates and visitors from further afield. Many of these guests have already returned for their second, third and fourth visits.
Nikoi Island is fully booked on weekend months in advance. With weekday bookings filling up fast it appears the secret of Nikoi is well and truly out.
Get There
There are a number of airlines that serve daily flights between Jakarta-Tanjung Pinang on Bintan Island, capital of Riau Islands Province. From Tanjung Pinang you can rent a car to go to Kawal Pier which takes about a half hour'sr drive. The boat ride from Kawal Port to Nikoi Island will take approximately 30 minutes. It is better to contact the management of Nikoi Island to arrange your transport from Singapore or Bintan to Nikoi Island.